Hypnotherapy in Hinckley, Leicestershire, Hypnotherapy for Anxiety ∞  Stopping Smoking ∞ Weight Loss ∞ Insomnia ∞ Phobias ∞ Depression ∞ Sress Relief ∞ Bad Habits ∞ Confidence ∞ Self Esteem…

Trance for A Change Hypnotherapy
Can Hypnotherapy Help Me?
Hypnotherapy can help with a wide variety of problems.  In particular, I specialise in helping with anxiety related conditions and stop smoking hypnosis. For a more comprehensive list of what conditions hypnosis can help with please click here.
Sometimes when we look at the world around us it can leave us thinking "what next?"  In the last few years alone we have experienced the effects of Brexit on our country, followed by the Covid pandemic and, more recently, the devastating invasion of Ukraine.  It's little wonder that sometimes we feel that we don't have control over our own lives anymore.  When we feel those things it can leave us feeling vulnerable and unhappy.  That's before we even begin to consider the more personal challenges that we sometimes face in our own lives.  
When we start looking at different ways we can help ourselves to feel better, hypnotherapy is rarely at the forefront of people's minds.  Isn't that what the people on TV do?  Stage hypnosis and televised hypnosis shows are for entertainment and they are very different to how a clinical hypnotherapy session is conducted.
Hypnotherapy is a very effective way to help people change their thought processes.  It is also a very natural therapy.  Clinical hypnotherapy works with the subconscious part of the mind to help promote wellness at a deep level.   
Are you Ready to Change Your Thoughts?
If you think about it, we all live in two places at any one time.  We live "out there" in the real world, where we have actual physical existences in a particular place.  In these physical places we have a sense of identity and belonging and we also have a reasonable idea about what is safe and what isn't.  But, at a deeper level, we also live inside our minds, and that is an entirely different landscape, which can be full of terrors and the plague of "what if?" thinking.  
Our thoughts can create any number of difficult or frightening situations for us to deal with.   When our imaginations are in full flight, it is often all too easy to create negative, scary or even terrifying thoughts about dreadful futures.  Our minds can travel from our physical location to the moon and beyond faster than the speed of light.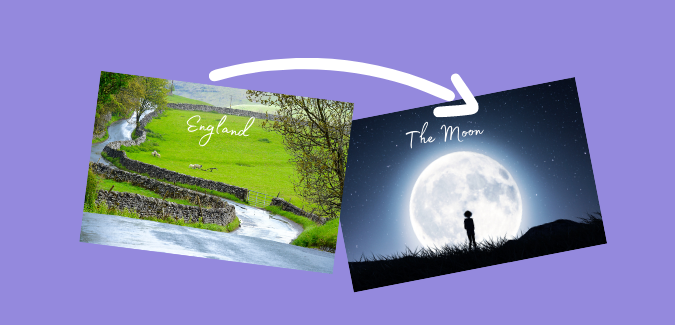 The fact that our minds can do this is really important, because every cell in our bodies is reacting to our thoughts. As children, we played make-believe and imagined wondrous and magical things. As adults we don't always use our imaginations in ways that are healthy or supportive to our happiness or mental wellbeing.
Hypnotherapy can help to restore calm, balance and a positive attitude. Helping with sleep problems, stress, overthinking, confidence and self esteem, to name but a few conditions. It can also change our thought processes regarding our habits, like smoking or excessive eating. All of our behaviours and habits are governed by the subconscious mind, so working through hypnosis can help us change anything that we find to be unhelpful.
We all know that suggestions are powerful. Perhaps you can remember a time when somebody made a negative comment to you. Because humans tend to believe the negative rather than the positive, it is likely that you hold onto the bad stuff and the good stuff seems to wash away. Hypnotherapy simply allows more of the good stuff to be accepted at a deep level.

To make an appointment simply drop me a message or a phone call and we can chat further about how I can help. I offer hypnotherapy in Hinckley, Leicestershire but am available online too, which is just as effective. You can find out more about online therapy here.
Hypnotherapy in Hinckley, Leicestershire and surrounding areas.  I am also available to work online anywhere nationally or internationally.
Telephone: 01455 631332 or Mobile: 0797 054 0389
What people are saying about Trance for a Change